Personal vs Professional Social Networks: How to Balance Your Online Presence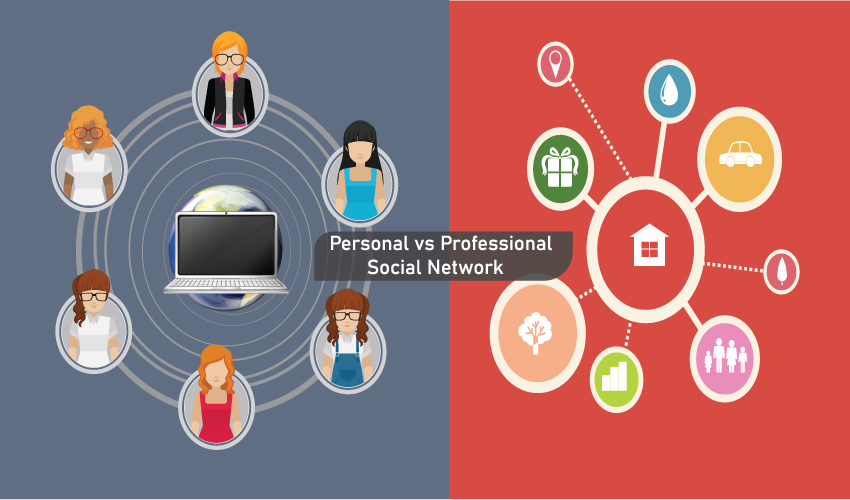 Introduction
Connecting with people is very important in this day and age when people are getting increasingly busy with their work. Fortunately, with the advent of social networking websites, it's easier than ever to connect with people. Online social networking has changed the way people interact with one another. It is being used both as a source of entertainment and as a tool.
Online Social Networking
Online social networking is used to interact with different people from different places and find new people. Various algorithms used by the different social networks make it seem uncannily easy to connect with like-minded individuals. A social network usually means a website based communication system in which there are different ways to share content and interact with people. There are personal networks and professional networks. These two types of networks have different purposes and people end up using them in different ways. Facebook and Linkedin are examples of personal and professional networks. By noticing the users' habits on these social networks we can understand that people behave differently in personal and professional networks. In a study conducted by TNS(Research Firm) we can see that the chances of people keeping up with the updates of their professional social networks is 3 times higher than that of their personal social networks. And of course, there is a reason for it. People use their professional network for different purposes than their personal network. They don't just spend time like they do on the personal social networks rather they treat it as an investment. It is treated as an extension of their resume. They only keep professional content on their profiles and work hard to keep it up to date. As it is a means to not only look for job opportunities for the employees but also for the employers to find the qualified person for the job.
Personal Social Network
In a personal social network, a user shares his feelings and opinions with the people interacts with without any specific goal. There is no desire to achieve any career-related goals or steps towards success like there is with professional networks. Rather people use personal social networks to kill time, be nostalgic about his or her memories and just have fun. They use it as a distraction to get away from their daily monotonous workflow and socialize with people far away from them. Keeping in touch with old friends, making new friends and sharing own opinion are the main things that people do on a personal social network. Whereas in professional networks the time invested is used to achieve success in one's career. People use these networks with a sense of purpose and the intention of connecting with future employers and brands. New career opportunities might arise if the profile is professional looking and can reflect the needs of the employer. A professional social network is a part of online professional identity. These networks help to get updates about new career opportunities and to stay in touch with useful contacts.
Professional Social Network
There is a stark difference between what people look for in a personal network and a professional network. In a personal network, people look for updates on friends, not career. Personal info and identity are more important on these networks. But on professional networks, people look for updates on how to improve themselves professionally. Updates need to be about the brands they are interested to work with and can benefit their careers rather than news about entertainment. They are not looking to express their views and opinions like on their personal networks. The updates on current affairs and brands so that they can make business decision.
Conclusion
But there is a common space between professional and personal networks. And this space lies in the zone of marketing where both professional and personal both networks are used to promote new information and products to get them to the consumers faster. All though in the TNS (research firms) research on 6000 individuals, it was seen that marketing was 26% more effective in the professional networks than in the personal networks.
Both professional and personal networks have their own use cases, none of which can be scratched. Professional networks provide a wide range of support to the end user looking to achieve his goals of a better career in life. The personal networks give a platform for the users to express themselves in new ways. These social networks serve as a new medium for people to connect, interact, have fun and even work for a better, happier future.